From the desk of Dana Nolan, Licensed Mental Health Counselor…
April is Child Abuse Prevention month.  In my practice, I have way too many clients who suffered childhood abuse and/or neglect and now have ongoing emotional or psychological issues related to trust, self-esteem, depression, anxiety/PTSD and unhealthy relationships. My job as a therapist is to help survivors of childhood abuse work through the abuse to become happy, well-adjusted adults. Ideally, it is always better to prevent a problem than to try and fix it later on.
Florida Governor Scott recently approved laws aimed at reducing childhood abuse. Today, anyone who fails to report incidents of child abuse, neglect or exploitation can be charged with a felony. Previously, only "mandated" reporters (doctors, nurses, mental health professionals and teachers) were obligated to report known or suspected abuse of a child or vulnerable adult. The purpose of this law was to make EVERYONE responsible for reporting abuse. Historically, child abuse was considered a private, family matter and many adults failed to report abuse they observed or suspected because they believed it was "none of my business." This new Florida law means that it is EVERYONE'S business to look out for our youth and vulnerable adults.
It is really quite easy to make a report to the Department of Children and Families services here in Florida. You simply call 1-800-96-ABUSE (1-800-962-2873) or log onto https://reportabuse.dcf.state.fl.us. It is important to have specific information ready to provide in making the report: Name, date of birth (or approximate,) race, gender, address or location of child and what exactly you observed that leads you to believe that a child is being abused, neglected or exploited. All reports to DCF are confidential and you cannot be held liable for making a report provided it is made in good faith.
Most of my clients who suffered childhood abuse or neglect have said they always wondered why no one ever stuck up for them or reported the abuse when it was observed. Please know that you CAN make a difference in the life of a abused or neglected child by being that ONE person who does stick up for them and makes that phone call to make a report.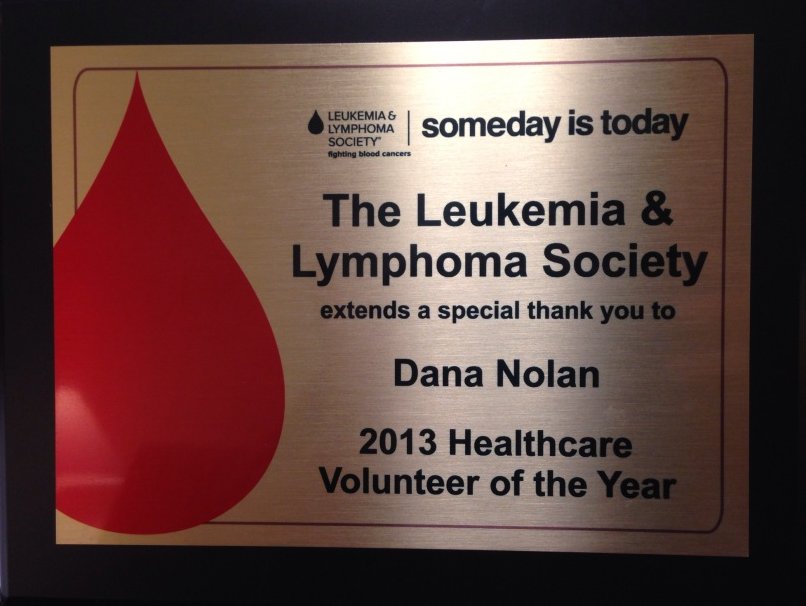 The Leukemia and Lymphoma  Society presented Dana with the 2013 Healthcare Volunteer of the Year Award.  The Leukemia & Lymphoma Society (LLS) is the world's largest voluntary health agency dedicated to blood cancer.  They fund blood cancer research around the world.  Their mission is to improve the quality of life for patients and their families who suffer from leukemia, lymphoma, Hodgkin's disease and Myeloma.  Dana, a licensed mental health counselor, who specializes in counseling for cancer patients and other patients with serious illness provides patient and family education programs to the LLS.  She is honored to receive such a special thanks from a great organization.
Valentine's Day is upon us again! It is that time of year where we declare (or re-declare) our love for that special someone in our life. Greeting card companies, florists and jewelers would like you to believe that buying their products for your loved one is the best way to show your love. The bigger the gift, the deeper the love, right?
I am not "anti" flowers, jewelry or candy at all. (Note to my husband: I do appreciate any and all cards and flowers you give me!) But, my experience in couples counseling has shown me that there are many other ways that we can demonstrate our love (which includes respect, affection and appreciation) to our sweetheart. Doing little things every day is what keeps relationships strong:
*Listening to your loved one vent about their day (WITHOUT trying to fix it!)
*Buying them their favorite drink or snack without asking
*Saying "Thank you"
*Giving hugs/kisses for no apparent reason
All these are not 'over the top' romantic things. But, I've found that truly happy couples routinely do any number of little things on a regular basis to let their sweetheart know that they are loved, listened to and respected.
I am not advocating a boycott of celebrating Valentine's Day at all! But, I am encouraging you do little things for your partner to spread the love you feel throughout the other 364 days of the year.
Dana Nolan
Licensed Mental Health Counselor
Many people use this time of year to get a "fresh start" and make some changes in their lives. Most of the time these changes involve self-improvement like losing weight, exercising more, quitting smoking or addressing an emotional or relationship problem that has been worrisome. It is natural to use the ending of one year and the beginning of another to reflect on our lives, where we are headed and where we have been.This self-reflection can be a very insightful and positive exercise.
Regardless of what kind of change you may want to make, it is important to have realistic expectations of ourselves and to have a plan of action. When we are motivated to make a change, we are pumped up and want our excitement to translate into quick results! Unfortunately, this just does not happen as our habits are formed slowly, weight is put on over months and years, emotional and relationship problems evolve over time. But, DO NOT GET DISCOURAGED and stop your efforts to feel better and live better if you don't see or feel results within a few days!
Here are some tips to help you be more successful with your New Year's Resolutions:
1.Get rid of the words "always" and "never." Don't say that I am "always" going to go to the gym after work as there will be days that you simply can't go every day at the same time. It is then too easy to say that "I blew it! I give up!" and just quit going to the gym altogether. Sometimes when people are going to lose weight they say "I am never going to eat chocolate again!" These statements are too rigid and absolute and don't allow for the flexibility we all need in our lives.
2.Take your time. Lasting behavior change takes time to sink in and become routine. Additionally, our bodies need time to adjust to changes in physical activity, diet and quitting smoking, alcohol and caffeine.
3.Question why you are making a change. Are you quitting smoking because your spouse is nagging you incessantly? Are you trying to manage anxiety because your family said that you are driving them nuts? Successful life changes happen when we are able to identify what we personally plan to get out of that change. How will you FEEL if you quit smoking? Will you have more energy? Will you hopefully live longer to see your grandchildren grow up? How will your life be better if you finally get that claustrophobia under control? When we are able to connect with what WE will get out of making a change, we are far more likely to stick with it.
Best wishes for a happy, healthy New Year!
Dana Nolan, Mental Health Counselor
And
Tejal Parekh, RegisteredDietitian
Healthy Living Counseling, LLC
From the desk of Dana Nolan, Licensed Mental Health Counselor: It is that time of year again!  We will soon be seeing television commercials or images in magazines depicting families enjoying the holidays.  We see artfully decorated trees and beautifully set tables covered with perfectly cooked food.   Family members all appear to be getting along and are dressed in color-coordinated festive attire.
Do we ever see a frazzled mother frantically trying to get all the food on the table while it is still hot?   Where is that crazy relative who likes to tell jokes that not everyone thinks are funny?  We don't see children running around the house excitedly fueled by too much candy or cookies.
Our lives usually feel stressful enough throughout the year. The holiday season can overwhelm us further if we feel compelled to live up to unrealistic expectations of what our holidays should be like.  Those "shoulds" can come from what we see in the movies or on TV.  They can come from childhood holiday memories.  The "shoulds" can be further fueled by pressure to keep up with the Jones' down the road in terms how much money they spend on their children's gifts or holiday decorations or similar stress and anxiety.
Take a moment and think about what is really important to you during the holiday season.  Think back on previous holidays and pick out your most enjoyable memories and do more of those things.   Stop for a moment when you think or feel a "should" about what you are doing this holiday season.   Where is that should coming from?   Is it a realistic and meaningful "should" that we have for our holidays?  If we can let go of unrealistic holiday expectations and focus on what is meaningful to us during the holidays, then we can get through this time of year more happily and healthfully!
Why should we focus on reducing our stress levels? Feeling overwhelmed physically or emotionally on a regular basis has been proven in medical research to lead to high blood pressure, regular headaches, depression, anxiety, and weakens our immune system. Besides, it simply doesn't feel good when our stress levels are too high!
While most people think that you have to be still and relax to combat stress, mental health professionals recommend that getting active is also an effective way to reduce stress. Stress feels like "pent up" energy and when we tire ourselves out physically, we are actually blowing off some of that energy and are more able to relax and our sleep improves. Here in Central Florida, we are lucky to have amazing weather most of the year and can take advantage of the many health benefits of a variety of outdoor activities. Being outside and getting some exercise are two things that reduce our experience of stress. We have many picturesque parks and nature trails in Central Florida. A great way to clear your mind is to take a walk or jump on a bike and hit the West Orange Trail, Cady Way, or the Seminole Wekiva Trail. If you work in downtown Orlando, talk a walk around Lake Eola during lunch or after work. Visit many of our local springs and rivers (like Wekiva Springs State Park, Kelly Park, or Blue Springs) for canoeing, kayaking, or swimming.
People from around the world visit Central Florida for our theme parks (Walt Disney World, Sea World, Universal Studios, Legoland Florida) and spending the day walking around the parks is a great way to take a break from our busy lives and enjoy the company of our family and friends. Even if you don't have passes to any of the amusement parks, you can walk around Downtown Disney or Universal Orlando's Citywalk and enjoy dinner, dancing, and live music.
Making time on a regular basis to break away from our busy lives to enjoy the outdoors and get our blood pumping is a very effective way to keep our stress levels at a manageable level. If you are feeling overwhelmed with stress and want to learn more ways to feel relaxed and in control, contact Dana Nolan at Healthy Living Counseling for a free brief telephone consultation to discuss ways to better manage stress in your life!